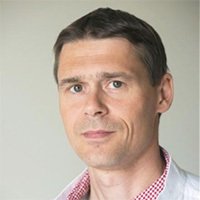 Prof Dr Harald Peeters
Gastroenterology Dept, AZ Sint- Lucas Gent.
---
Bio
Harald Peeters qualified as MD at the Ghent University in 1998. In 2006 he graduated as a gastroenterologist and obtained his PhD degree with a thesis entitled: "The role of genetic alterations in the gut-joint axis of Crohn's disease and spondyloarthropathies". His scientific work led to national and international abstracts, presentations and publications. He received several research grants and obtained the Belgian Inflammatory Bowel Disease prize in 2004. He worked as Head of Clinic at the department of Gastroenterology of the Ghent University Hospital untill 2013.
Subsequently he moved to the hospital AZ Sint-Lucas in Gent where he is a staff member at the Gastroenterology department since June 2013. Besides general gastroenterology, he has a special interest in inflammatory bowel disease and interventional endoscopy.
In 2007 he followed an advanced 4-month training in therapeutic endoscopy at the Karolinska University Hospital of Stockholm (Sweden), with focus on ERCP and endoscopic ultrasound. Since 2010 he is also working as an assistant professor at the Ghent University. He is a member of the Belgian IBD Research and Development Group (BIRD), the Flemish Society of Gastroenterology (VVGE), the medical advisory board of the Flemish Crohn and Ulcerative Colitis Society (CCV), the editorial board of Acta Gastroenterologica Belgica, the European Crohn and Colitis Organization (ECCO), the Belgian Society of Gastrointestinal Endoscopy (BSGIE) and the European Society of Gastrointestinal Endoscopy (ESGE). He regularly reviews manuscripts for national and international peer-reviewed journals and serves annualy as reviewer for abstracts of the Belgian Gastroenterology Week (BGW), the European Crohn and Colitis congres (ECCO) and the United European Gastroenterology Week (UEGW).
He lives in Brugge (Bruges) together with wife and 2 daughters. Main hobbies are tennis, reading and travelling.
---
I am teaching in
Abdominal Echo-Anatomy Course
A Systematic Approach of Abdominal Ultrasound !
Workshop Abdominal Ultrasound
A systematic approach of abdominal ultrasound !
Renal & Abdominal ultrasound lesson
Start-to-scan program: Module 4
Abdominal Ultrasound Program : Module 1
Focus: normal abdominal anatomy
Abdominal Ultrasound Program: Module 2
Focus: abdominal pathology
Back to people